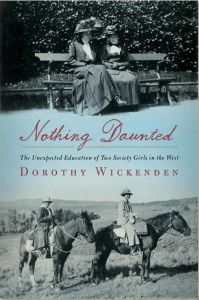 Historical background helps us understand the time and place in which our ancestors lived and what their lives would have been like. Nothing Daunted: The Unexpected Education of Two Society Girls in the West, by Dorothy Wickenden, combines a delightful read with a research story and valuable details about life in northwestern Colorado in 1916-1917.
Wickenden, executive editor of The New Yorker magazine, tells the story of her grandmother, Dorothy Woodruff, and Dorothy's best friend, Rosamund Underwood, two Smith College graduates from well-to-do families. They were 29 years old and had "done" college and a European tour — and they weren't ready to settle for any of the young men who were courting them. Through their Smith connections, they learned that a small community in Colorado was trying to establish a school and was looking for two teachers. With lots of enthusiasm — and no teaching experience — they applied for the jobs, were accepted, and set off for the farming and ranching community of Elkhead.
Their life and adventures in Elkhead during the school year of 1916-17 are fun to read about, and Wickenden takes time to tell us about the history of the area and the people who lived there, so the book provides valuable background on the area and the time.
Beyond that, however, she also shares the story of her research for the book, which was inspired when she discovered the letters Dorothy had written home to her family in Auburn, New York, during that time. For anyone interested in writing a family history, this book is an exceptional resource.
Website: http://www.nothingdaunted.com/