With generosity typical of the genealogy community, several genealogists responded to my Grad School post about homework with recommendations about programs that are challenging, rewarding, and also have homework! My next few posts will discuss these programs.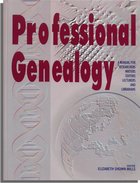 Today, we'll begin with the ProGen Study Group, a 19-month small group study program that uses Professional Genealogy: A Manual for Researchers, Writers, Editors, Lecturers and Librarians, edited by Elizabeth Shown Mills, as its text.
Angela Packer McGhie, former ProGen program administrator and now on the board of directors, said in an email, "In the ProGen Study Program the participants study one or two chapters of the book Professional Genealogy each month and then complete a practical assignment on the topic. This immediate application of the material is vital. The assignments are reviewed by the other members of the study group, who give feedback to each other on how to improve. Most of this is peer feedback, but the study group mentors now also give feedback to the group members on a few assignments such as writing research reports, proof arguments and family narratives."
I was glad to hear that the study group mentors now give feedback. According to the ProGen Study Group website, each group is mentored by a BCG certified genealogist. While study group members are expected to be experienced genealogists and can certainly learn a lot from each other, having the mentor's feedback on some assignments is a huge plus. In fact, the only complaint I've ever heard about ProGen is that so much of the experience depends on getting a good group that's willing and able to give constructive and useful feedback on assignments.
So how does the program work?
First, applicants are expected to be experienced genealogists. Individuals interested in participating are asked to read the Frequently Asked Questions and look at the Lesson Samples on the website to get a clear idea of what the program involves. Then they fill out a checklist (click on Waiting List on the website to pull this up) to determine if they're ready for the level of work ProGen involves. If they feel they are ready (including having 20 hours a month to devote to the program for 19 months), they can submit their application to be placed on the waiting list.
When I did the checklist the first time, it became clear to me that I did not have as much experience researching in repositories as was expected. So I set about remedying that gap in my genealogical experience and then applied once I felt ready. I soon received an email that indicated that I am now on the waiting list.
Three or four times a year, groups of 24 are organized from the waiting list. Each group is divided into three small groups of eight for the purposes of evaluating each other's assignments in online discussions.
Cost for the program is $95 and need-based scholarships are available.
If your ultimate goal is BCG Certification, you should take note of this information from the FAQ page:
"Those applying for certification through BCG generally have broad experience with both research and educational programs. The ProGen Study Program contains assignments similar to the BCG requirements that may help applicants gain experience in the skills necessary to prepare a successful portfolio. Study group members that plan to apply to BCG need to be careful not to use any families or projects they would like to include in their portfolio for their ProGen Study Group assignments. While we practice the skills necessary, your portfolio must be your own work."
Does the ProGen Study group program meet my (still evolving) criteria for Genealogy Grad School?
1. Expert instruction: Yes, the textbook, Professional Genealogy, is written by recognized authorities in our field, and the group mentors are BCG certified genealogists.
2. Advanced-level course design: Yes, the study group format is like a seminar course in which the professor is there to guide the discussion but a great deal of the learning comes from fellow students.
3. Not for beginners: Yes, the expectation is that applicants are experienced genealogists.
4. Homework: Yes, mostly peer feedback, but also some mentor feedback.
ProGen definitely looks like part of Genealogy Grad School.
Cheers!
Annette